Welcome to SouthEastSlopes.com!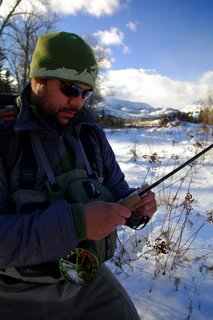 I'm from southern Alberta and have a passion for photography, especially outdoor scenes. My other passion is fly fishing, which goes hand-in-hand with my photography.
I am a former Fish Habitat Biologist with the now decimated federal department of Fisheries and Oceans, which when I wasn't out fishing and taking pictures let me fish and take photos, and so my world went around. Curenty I am pursing other endeavours.
I also write the occasional front page for Sexyloops when I'm not messing things up. You can find links to articles I've written here. Please enjoy my photos and do not hesitate to contact me (if you can find me) with comments or if you are interested in using any of my work.
You'll have to bear with me as I learn all this html, css, javascript, and php mumbo in order to build the site. I don't know if it will work across different browsers yet, and I'm not sure if any of the pictures will load, but I'm trying.
If you want to get ahold of me you can send me an email at: pharps @ southeastslopes dot com.